A Note on Value Engineering
Value Engineering (VE) can be a tremendously
effective process. As part of our portfolio of services, we use this process for clients around the globe to derive a number of benefits (optimization of cost, scheduling and functionality) for a wide range of topics. It is important to know that there are various conflicting interpretations regarding the VE process: i.e. its process steps, required resourcing, its deliverables and potential outcomes.
VE started in the manufacturing industry as Value Analysis in the General Electric Company of the United States in the 1940s. Since then it has been used in private industry and by government agencies as a method for cost reduction, improved product/project development and product/project improvement/re-engineering. It is also used as a tool for business process improvement.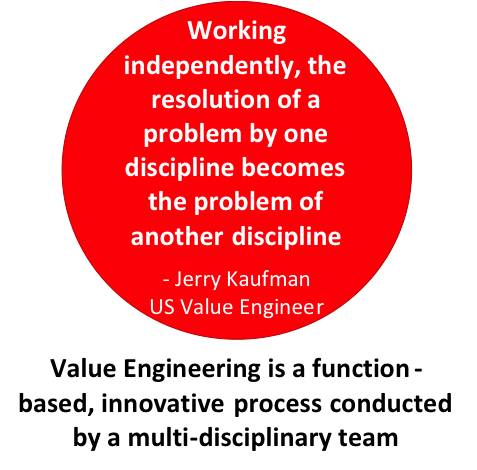 Value
takes into account the total cost of ownership as well as compliance with users' requirements, reliability of performance, appropriate quality and functionality, along with after-sale support where applicable. Value can vary between different stakeholder opinions and can change with circumstances and over time.


Lawrence Miles, working in procurement in GE, is known as the "father of Value Engineering". He stated that:
"All cost is for function" (Use, esteem/aesthetics or exchange function)

"Thinking by function allows greater freedom for creativity"
Analysis by function is a critical step in effective Value Engineering.


In the United States, Value Engineering is specified in Public Law 104-106 (February 1996), which states "Each executive agency shall establish and maintain cost-effective Value Engineering procedures and processes. DEFINITION.-As used in this section, the term 'value engineering' means an analysis of the functions of a program, project. system, product, item of equipment, building, facility. service or supply of an executive agency, performed by qualified agency or contractor personnel. directed at improving performance, reliability, quality, safety and life cycle costs."
With over a quarter of a century of conducting highly successful VE assignments, as well as certification training, we know that there are no shortcuts to effective VE. The focus and emphasis of the VE process can, with expert guidance, be adjusted to suit the circumstances of application. A "one-size fits all", minimalist approach is to be discouraged. That said, we are proud of the outstanding results that we have guided within very short timeframes.
Value Engineering (VE) is an intensive, interdisciplinary problem-solving activity that focuses on improving the value of the functions that are required to accomplish the goal, or objective of any product, process, service, or organization.
Value Engineering is conducted through the use of the Value Methodology.
Value Methodology: "The systematic application of recognized techniques which identify the functions of the product or service, establish the worth of those functions, and provide the necessary functions to meet the required performance at the lowest overall cost." John M. Bryant, VM Standard, Society of American Value Engineers, Oct. 1998.
The cost-benefit of conducting effective VE is tremendous. However, attempts to reduce the number of VE phases would be counter-productive cause a disproportionate loss of effectiveness. As well, overloading the VE process with non-required participants will also reduce efficiency of interactions and outputs.
The addition of risk evaluation at the beginning and end of the traditional VE phases improves the practicality of outcomes of traditional VE. Similarly, the formal use of performance metrics and related analyses vastly aids the smooth application of the VE process and corresponding results.


The terms value analysis and value management are often used as being synonymous with VE; on the other hand, some jurisdiction interpret them differently. The VE process and examples of application are described in our Knowledge Bank.
Combining the value and risk management (VRM) approaches is a particularly powerful method, especially when integrated within the traditional project development process.
🔷🔷🔷
Download "A Value and Risk Management Approach to Project Development" paper, as published in the Proceedings of the Institution of Civil Engineers.
To download a copy please submit the following information